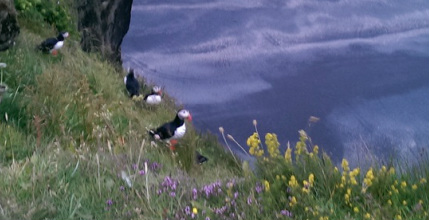 I burned out last summer.
I probably don't have to describe the emotional exhaustion, the hopelessness, and the eternal frustration because burn-out is pretty common (
http://www.statista.com/topics/2099/stress-and-burnout/
). If you're not feeling burnt out yourself, it's likely that half of your friends could fill you in on what it's like.
But this isn't a post about burn-out. It's a post about puffins.
Normally when I travel, I research everything. But when I ended up in Iceland for a whirlwind business trip, I was completely unprepared. I found myself on top of a plateau overlooking black sand beaches at dusk, and I was astonished to see THOUSANDS of puffins perched on the cliff edge, riding the thermals, grooming each other, and hovering mid-air, wings invisibly flapping.
Puffins, it turns out, flap their wings 400 times per minute (
https://en.wikipedia.org/wiki/Puffin
), which makes them look like little sad-eyed, colorful-beaked,
torsos
zooming about.
Giant clown-faced humming birds.
I recorded a little video of my unabashed excitement, but it was automatically deleted by my phone. I wish so fervently that I still had that clip because it captured the exact moment when I fell in love with the world again. (
Okay, I found a fragment of a video from that day.
)
It's possible that I cried a little bit. It's possible that I hugged a random tourist. It's possible that I watched the birds until it was too dark to see them anymore.
I wouldn't say that my life changed dramatically in that moment, but it reminded me how important it is to see and do new things. And then I ran into this article:
http://www.nhs.uk/conditions/stress-anxiety-depression/pages/learn-for-mental-wellbeing.aspx
I've noticed that doing new things helps me handle stress and depression better. It makes my world larger and more full of hope and possibility.
If you're struggling right now,
I hope that you find your puffin
. Iceland should be on your short list--it's spectacular. But if you need something a bit closer to home (and home is within driving distance to Frederick, MD), I humbly offer my blacksmithing lessons.
There is obviously no way that I can claim that blacksmithing treats stress, anxiety, or depression. And there's no way to predict whether you'll fall in love with it like I did. But it's widely believed that
exercise helps mental-well-being
, and you'll definitely get some exercise swinging a hammer. And you get to make art. And meet me, and I'll tell you all about the puffins in person.
Caitlin