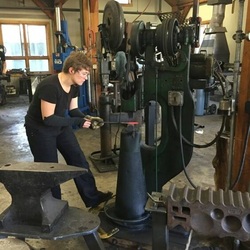 I read an article about Lance Armstrong before his fall from grace. The article talked about how Mr Armstrong devoted all of his energy to biking; if he wasn't training, he was conserving his energy so that he could make the most of his next training session or his next race. I'd never thought of it that way. I thought of athletes as the folks who go out of their way to take the stairs. To lift the heavy thing. To go at top speed just because they can. But this article (I'm trying to track it down, please bear with me) asserted that
Lance Armstrong takes the elevator
.
Energy is a limited resource for all of us. For some, it's an extremely limited resource (see
spoon theory
). Sometimes folks (think: small children, people on certain legal and illegal substances, morning people) don't *seem* to have limits, but then things are quiet for a moment and you find that they've fallen asleep.
It can be incredibly useful to keep in mind that
there is a finite amount of work that can be accomplished in a day
.
(Okay, yes, I will acknowledge that some of you will find this thought very depressing. That doesn't make it less true, but if you need a minute, please take a minute. It gets better, I promise!)
Alright! Glad to have you back! So here's the good news: Having limited energy, limited time, and only so much work you can accomplish in one day is a great reason to be LAZY.
Yes, that's right. I think we should all be LAZY. But
I think you should be lazy in order to get more done
. Consciously choosing to do things that save you time and energy means that you can smith for longer.
Think about the way you hold your hammer. How does your arm feel? How does your hand feel? Are you gripping the hammer too tight? If you are, you're working against your own muscle tension.
In my shop, we put gravity to work. If you're moving big metal, lift your hammer higher and let the weight of your hammer do most of the work. I know you're very strong and hitting things can be a great workout, buuuuuuuuuuuut you'll burn out your arm and possibly cause injury. And that's not very lazy of you.
Metal doesn't move as much when it's cool. If you're hitting the metal when it's not glowing, you're almost certainly getting a great workout, but you probably aren't moving a lot of metal.
Keep your metal as straight as possible for as long as possible. Once you bend your metal, you run the risk of the bent end getting in your way. It's not always possible to follow this guideline, but it's a great way to stay lazy!
Use your time-saving tools.
I'm all in favor of doing things the long way when it counts. But we humans have developed all sorts of great ways to save time, save energy. For example, you probably don't carry burning embers around with you at all times because you can easily start a fire with a lighter and some paper. See how lazy you're being?
Trying to make a piece longer and/or thinner? Are you still working on the face of the anvil and hitting with the face of your hammer? Use the peen and the horn to move the material faster. It can be scary to use the peen and the horn the first time because you'll first end up with a lot of little divots on your piece. But these can be cleaned up quickly and easily on the face of your anvil. Oh the time you'll save!
Don't have a power hammer, a treadle hammer, or an air hammer? Buy yourself a sledge hammer (for between $8-40) and invite a friend over to strike for you. Check out this video on striking. In this case you'll be the blacksmith and your friend will be the striker. The striker's job is to ONLY hit when the blacksmith says to. The blacksmith's job is to communicate where to hit and how hard. If you, as the blacksmith, are using a struck tool (like a chisel, punch, fuller, flatter, etc), you can communicate verbally ("STRIKE!") or with a gesture like a head nod. If you are also hammering, you will indicate where to hit and how hard by hitting that spot with your hammer. Take it slow, be mindful of flying hammers, and be sure to give your striker regular breaks.
Treat yourself like an athlete.
Stretch, warm up, drink lots of water, eat healthy, don't let your body get overheated or too cold, take regular breaks & put your feet up. Wear clothes and shoes that allow you to move. Stretch. Get a good night's sleep. Stretch. Be mindful of your mental state.
If you feel out of it, don't push it; having to take a trip to the ER is the opposite of the lazy smith ideal.
Blacksmiths are a very resourceful group of folks. They are always on the lookout for ways to save time and energy. Send me your favorite lazy blacksmith tip (info@mscaitlinsschool.com) and I'll add it to the list!